行事(Events)
One of my favorite food in Japan has been the soba noodle…. And after this party each time I'll eat it again I'll remember the work is behind of that dish…
This was one of the most amazing moments I experimented here. Since the day before of the party when I went with Hayasaka-san to buy the ingredients I was really surprised with the care dedicated by him to make a great day for us… We went in several places before to find that option he thought to be the best one of the soba ku (pounder for the soba)…
At the end of the shop time, I convinced Hayasaka-san that wasn't necessary to bring the things at that time (around 11pm) to the lab and we could do that in the following day early… Then in next day as I stayed with some ingredient I decided to arrive early than the scheduled time… but he was already there when I arrived…
It was like a prelude of the great day we was going to have…
Ingredients and the instrumentations for high precision and quality was checked out… last review on the experimental plan done and then… we started first with a demonstration of the master of soba, Kaneko-san about how to make that…
I should open a mark here to say about the special visit we got of the great Nishino-san…going to work that time…hehehe
And that Hanzawa-san did too much success with the children..
Well returning to the cooking day… Kaneko-san showed us the nice point for the mass, and how to make it thin enouth before cut…
After several verifications on the process steps and discursions about the demonstration steps we started the second mass…
Everybody putting hands on the mass…
Chand-san showed very nice hability with the knife…
The recompensation of the hard work was tasting the final taste of the soba noodle…
But harder than make the soba was to take picture with the Tanaka's sensei daughters… hehehe Was necessary to wait for a the right moment until to get it… hehehe after several attempts…
Another special moment was when Tsukamoto-sensei teached the little children how to prepare the traditional green tea…
More than we was expecting Tanaka sensei prepared a very delicious dish….
At the end the little children joined everybody in their plays..hehehe really funny…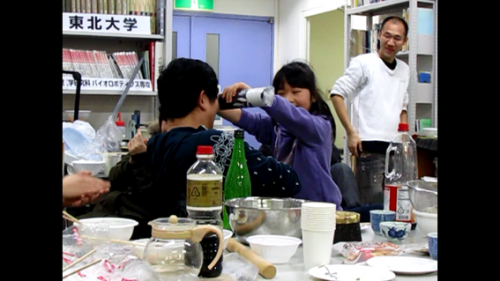 I need to say: I'm really glad in know these people and everyone in this lab are very important to me..!!! Thank you a lot!
Thiago Moura